Architecture
Meditel360 is a cloud-based high availability platform.   Healthcare personnel and patients can be anywhere.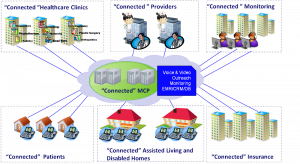 Technology Functions
Voice, chat and video one-on-one or multiparty conferencing
Integration with professional and home-based diagnostic and monitoring devices
Direct and ACD skills-based call routing
Call Center features
IVR, video push and automated dialing
VoIP and PSTN Telephony
HIPAA compliant storage
Integration with EMR (Electronic Medical Records)
Recordings and reports
Clients work across all platforms as an app or in a browser
Encryption, High availability and Geographical Distribution of the platform components.